Blessing Your Family, Respect
T
oday's theme is
Respect
, following yesterday's post on
Tenderness
. I am switching the order of "
TAR
" in my acronym here only to prioritize
Respect
before
Admiration
. For now, please allow me to say that
Respect
carries more weight than
Admiration
and is a perfect next topic after
setting the sweet tone and environment of Tenderness
as we continue our journey to
Bless Your Family
.
My first comments are regarding the general benefits of respect in a family, but we will briefly cover the specific benefits of
Respect
in the
romantic
and
loving
relationship with your spouse from the book,
Love and Respect
. The author makes several incredible claims of the transforming results in a marriage when combining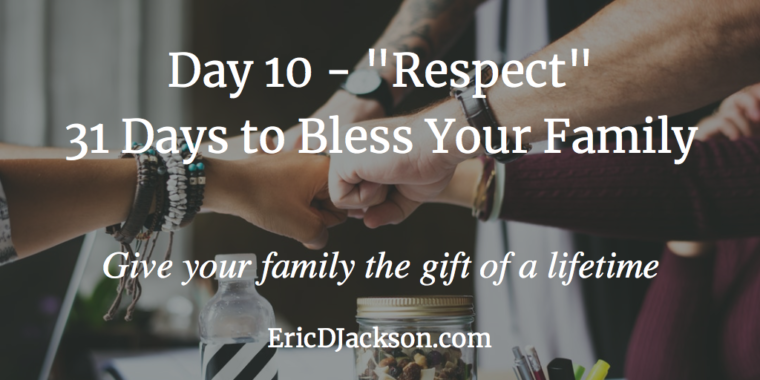 Generally speaking as a parent, I am always intentional about finding opportunities to emphasize with my son that people are worthy or respect and dignity. A faith-based view would state that people bear the image of God and is enough to warrant special value on each person. "All [persons] are created equal" is an attempt to work that out in society. It is a higher value placed on our spouses and children that we will address today.
One of my intentions is to create and protect an environment of
Respect,
in and for what makes up our home together as a family. It is probably easy to imagine how respect in a marriage and family can raise the value of the relationships around you, it prepares the foundations for many or all of our other topics in this series, and
it elevates the value of each blessing you intentionally give to your spouse and your children
.
"Love and Respect – The Love She Most Desires, The Respect He Desperately Needs" – by Dr. Emerson Eggerichs
In this book, Dr. Eggerichs asks us to consider, "do you believe your mate is well-intentioned?", and if so, then we should also consider allowing them the benefit of the doubt, or giving them a little grace when we respond to our mate. This is yesterday's post, 
Tenderness
, which allows us to
not
be so easily offended, to be more patient, and make room for
Undying Love
, and
Respect
with our mate.
Eggerichs states that of course both husband and wife need and deserve both Love and Respect, but that we are wired to receive, communicate and need each of these differently as men and women. In his extensive research and counseling he makes an incredible case for healing, transformation, and igniting the marriage relationship when we understand and prioritize what each partner needs from the other.
Part of what I hope to share with you is that with TAR – Tenderness, Admiration and Respect we create a sweetness in our marriage that has the potential to invite in the miraculous and give us the marriage of our dreams.
In Eggerichs' work he articulates the opposing responses to this sweetness with descriptive words like contempt and disdain. It isn't hard to imagine how annoyance, shortness, sharp or cold, bitter or insecure reactions can snuff out the Love and Respect from a marriage. He calls this the "crazy cycle" where we misunderstand our partner's reactions instead of translating their feelings and needs properly.
One very helpful technique is to pause this cycle by lovingly speaking:
Husband – "Have I been unloving to you, because that felt disrespectful?"
Wife – "Have I disrespectful to you, because that felt unloving?"
These simple responses to a possible reaction allows for tension to de-escalate, and for the person choosing to respond to allow for ownership of a wrong they may have said or done, and also ownership of how it made them feel. All of this is done without pointing the blame at the other partner. These responses allow for grace, the presumption that our partners are well-intentioned, and that the situation just needs a little more translation and understanding of our mate.
There are too many profound discoveries in the book, Love and Respect, for me to unpack here. This book is a game changer for marriages, and I highly recommend it to Bless Your Family.
Are there ways to elevate the value of your mate and your children that would communicate the love and blessing you desire for them to receive form you? In what ways can you show Love and Respect to your mate? Is it possible that this could be done unconditionally? How can "TAR" help you create an environment that elevates the value you place on your loved ones, and the value of the blessings they might receive from you?
Today's "Dares and Prayers" shared in the video:
Love Dare – "Unconditional"
Love Dare For Parents – "not Rude"
Power of a Praying Husband, Pray for – "Her Beauty"
Resolution – "be a man to lead your family"
31 Days of Building Your Family Values, Bible App Devotions – "Patience"


<YouTube video coming soon>
Daily Resources and References
Please review the
Welcome to 31 Days to Bless Your Family
post if you missed it. There are some starting resources and recommendations there. Your best resource will be a local Bible teaching church to plug into with your family, and be surrounded by a thriving and supportive community.
For prayer from KLOVE Radio staff:
"You can also call [the] prayer line at 800-525-5683"
If today's topic resonated with you please leave a question, or share something positive that is working for you in the comment section below.
Here's to your family's "purpose-filled and on-target day"!
God Bless You and Yours!