Blessing Your Family, Partner & Parent
Today's theme is Partner & Parent. In almost all cases I am assuming you have a partner, a spouse, a soul mate. And in many of those cases there are children involved, whether your own biological children, or stepchildren on one or both sides, or foster or adopted. And your family may even include fur-babies of some sort – you know, those sweet pets that many homes consider part of the family. (smiles included!)
Whatever the make up and dynamics of your home may be, it will be an important choice to be the right Partner and Parent together. It takes unified teamwork to Bless Your Family. Today's topic is cousins with some others in our series, listed below, but is focused on being the role of Partner & Parent. Of course most of the topics compliment each other and are delicately interwoven together. Today we will directly address the inward nature of how we might be a better Partner & Parent with and for our mate, almost exclusive of the outward nature that may seem to always be giving to every one and every thing first.
Helpful topics to reference in this series: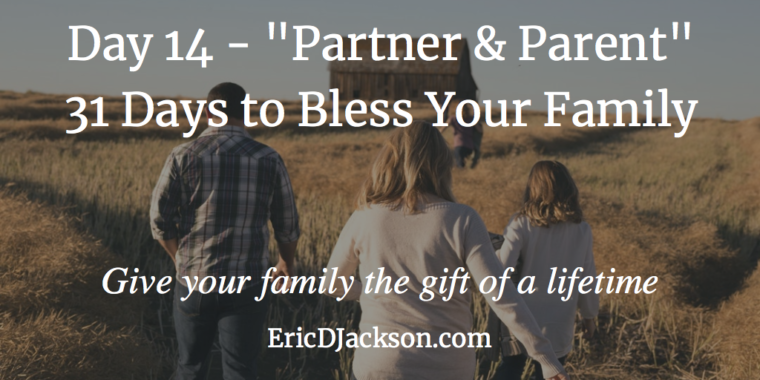 "Many Hands Make A Lighter Load"
My wife quotes that phrase a lot when it's time to get chores and tasks done around the house. But Blessing Your Family is certainly about more than just tasks and chores. She also uses it when we help each other out with everything in life together. That's Partnering.
My wife is also a stop-mom in our family, "Ms. Debbie". Despite what she might have said otherwise in her humility, she is a natural mother in her heart, and step-mom every day of our lives. We are a great team and we back each other 100% + 100% in everything, and then some. She would also be honest in saying she gives way more than 100%. We are consistent and unified in our approach loving and raising my son across a "broken home" situation. My wife and I encourage, support, and make possible the other's solid relationship with my son, and work together as best we can to create a home environment to Bless Our Family. That's Parenting.
Both of us chose each other, and we chose the life we would have and thrive together as best as we could. We both chose to be the right Partner, the best Partner for the other, and we both whole heartedly chose to be the right Parents, the best Parents we could be, in our love and priority to raise my/our son. In fact, I couldn't write each of these topics in this series for us to journey through if it weren't for the Partnering and Parenting commitments and dedication we share together. My wife and I are do the everything we can to bless each other and our family.
It truly is the living out of our vows, our choices and dedication of our lives to be united in all things, loving in all things, hoping in all things, and having faith in all things.
This is why to Partner and to Parent are the inward nature of how each of us might be better directly for our mate. It is what we do to give everything we are to become one with our spouse, and in many cases to unify as parents, so that we can together Bless Our Families. This must be done first before all the outward demands of life might otherwise rob us of one of our most precious relationships in our lives.
Next to a relationship with God, I believe your relationship with your spouse comes first above all others. When everything works out the way you hoped for you and your mate you will be growing old together, walking each other to closer to eternity together. So invest first in your marriage, prioritize your Oneness. That's why when we fall in love we naturally speak of Forever and Always, but that is still only a reflection of the real forever love that God places a longing for in our hearts.
What can you start doing immediately to bring you and your spouse closer, more unified? How can you begin showing a new level of commitment and dedication to your Partnership together to better bless your family? How might the two of you, in what ever the circumstances are, work to better Parent together? How can the two of you begin showing life changing commitment and support to each other in all areas and all things?
Today's "Dares and Prayers" shared in the video:
Love Dare – "Delights"
Love Dare For Parents – "Compassionate"
Power of a Praying Husband, Pray for – "Her Trust"
Resolution – "to Bless Your Children"
31 Days of Building Your Family Values, Bible App Devotions – "Goodness"


<YouTube video coming soon>
---
Daily Resources and References
Please review the
Welcome to 31 Days to Bless Your Family
post if you missed it. There are some starting resources and recommendations there. Your best resource will be a local Bible teaching church to plug into with your family, and be surrounded by a thriving and supportive community.
Special Thanks to Kendrick Brothers Productions for their books The Love Dare, The Love Dare for Parents, and The Resolution for Men. You can check out their movies, books etc on their site. Their site recommends a local church finder at:
For prayer from KLOVE Radio staff:
"You can also call [the] prayer line at 800-525-5683"
If today's topic resonated with you please leave a question, or share something positive that is working for you in the comment section below.
Here's to your family's "purpose-filled and on-target day"!
God Bless You and Yours!