Blessing Your Family, Good Food
Today's theme is
Good Food
. This is another
treat
you can credit my son! Right next to
Fun Memories
for him is
Good Food
, and not just because he is a growing teenager. He is bigger than me now however, and what we've fed him has probably helped his genetics do their best. The highlights of food however are delightful to us all, and good food helps to bond and create memories and traditions for families.
As you are being intentional to Bless Your Family, there are obvious benefits to feeding your family as well as possible. For almost any parent this goes without saying that you want your kids to be as healthy as possible. But blessing your family goes beyond nutrition alone. Studies prove time and time again that meals together at home (preferably at the dinner table without screens on) has lasting benefits of real blessing, development, character, values, self-esteem, and more! These provide for moments of bonding and relationship and memories that will bless your family for the rest of their lives.
Good Food also refers to times of celebration and holiday cheer, special occasions that may involve dining out or cooking out. These could be anything from a beverage or dessert run, to great meal experiences. Some other ideas for incorporating good food into Blessing Your Family are times of cooking and teaching with each other, passing down techniques and recipes and responsibilities. These are times that awaken the senses, build trust, and open up communication.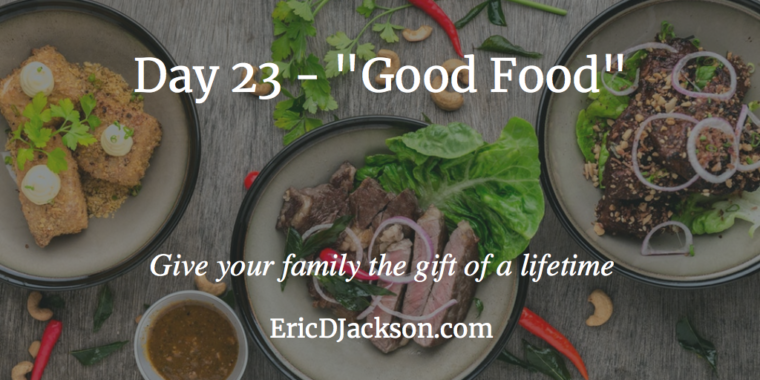 The video below was a spontaneous, Good Food creation one afternoon with my son. We were in the kitchen, I was doing prep work for spaghetti sauce and my famous cheesy bean salsa, and my son was "hungry". The aroma from what I was already cooking intensified his lunch cravings, and as we went over the usual list of lunch options, including a grilled cheese sandwich, I got an idea and invited him to help make sandwich history with me.
What resulted was an improvised
Grilled Cheese Philly Sandwich
. We had fun cooking and creating in the kitchen together, and this was added to the list of
Good Food
and 
Fun Memories
. I took the time and mindfulness to include him, to make it all about him, and to serve him. Moments like these are priceless and important opportunities to
Bless Your Family
.
What ways are you already using Good Food to Bless Your Family? How might you find new and creative ways to share tasty treats together? Are there family recipes, or personal favorites you can be making together?
Are there any creations you might attempt to make with your spouse and your family? Perhaps there is a cooking show or a class you can learn from together? Maybe there are already personal favorite dining places for your spouse and your children you can go to on special or impromptu occasions?
In what was can you use Good Food to serve your mate? Your kids? Perhaps there's something special you might do for them during pregnancy, or to nurture and help a new baby's development, as well as mom's or dad's nerves and energy levels? Are there special ways you can make good food part of showing your spouse and family how much you care for them and want to bless them?
Have fun, be open and creative new, Good Food opportunities with your spouse and your children. Be intentional about finding new ways to Bless Your Family with Good Food and Fun Memories together!
Here's my most recent teachable and bonding moment with my son in this gallery below. He seems to love cooking and learning, taking on new responsibilities, as well as receiving new levels of trust and appreciation for his efforts. I am 100% aware of times like these and the chance to Edify him, to build him up and equip him. I also try to make sure he gets more than his fair share of the credit and praise when it's time to enjoy the meal he helped make.
Today's "Dares and Prayers" shared in the video:
Love Dare – "Protects"
Love Dare For Parents – "Intercedes" (prays for)
Power of a Praying Husband, Pray for – "Her Family"/edj
Resolution – "to reconcile with your past"
31 Days of Building Your Family Values, Bible App Devotions – "Traditions"
<YouTube video coming soon> 
---
Daily Resources and References
Please review the
Welcome to 31 Days to Bless Your Family
post if you missed it. There are some starting resources and recommendations there. Your best resource will be a local Bible teaching church to plug into with your family, and be surrounded by a thriving and supportive community.
Special Thanks to Kendrick Brothers Productions for their books The Love Dare, The Love Dare for Parents, and The Resolution for Men. You can check out their movies, books etc on their site. Their site recommends a local church finder at:
For prayer from KLOVE Radio staff:
"You can also call [the] prayer line at 800-525-5683"
If today's topic resonated with you please leave a question, or share something positive that is working for you in the comment section below.
Here's to your family's "purpose-filled and on-target day"!
God Bless You and Yours!
SaveSave
SaveSaveSaveSave
SaveSave
SaveSave