Blessing Your Family, Drama & Gossip Free Zone
Today's theme is Drama & Gossip Free Zone. For myself, I have a "No Drama" rule. I also value honesty, confidentiality, and loyalty so I prefer not speaking about others in forms of gossip. I say "prefer" because this is not easy, I am not perfect, and I think so many of us honestly might find No Gossip challenging or a struggle.
As you are intentionally leveling-up ways to Bless Your Family consider how drama and gossip will work to erode the efforts and strides you are making in each of our other 31 topics. If there is drama in your home, in your marriage and in your relationships with your children, then there is a significant barrier to blessing. And if there is an environment of gossip and speaking poorly of others, then the potential for mistrust and a loss of respect could hamper the very words and efforts you wish your loved ones to receive from you.
No Negativity Zone. Obviously your desire to Bless Your Family indicates your desire for them to receive positive benefits. Being intentional about creating a negative free zone, a Drama and Gossip Free home for your marriage and family will make a huge impact in the degree of blessing your loved ones will receive.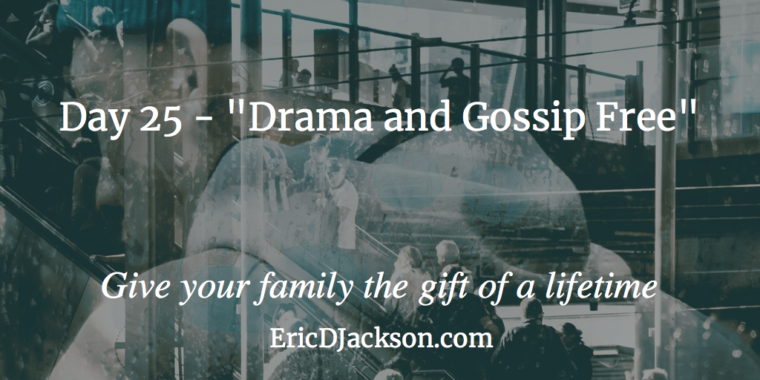 Breaking Bad
We are all human, living in an imperfect world, with other imperfect humans, doing imperfect things. It is probably a safe bet that we have all experienced some level of drama and gossip in our lives, and perhaps almost equally as high a probability that many of us have experienced some degree of dysfunction in our own upbringing. I know personally, I grew up with many dysfunctions in my family amidst many blessings as well. There were definitely bad behaviors modeled and generational histories of destruction that needed to be broken. I learned more in my childhood from what I didn't want in my life than most of the positive modeling that was available to me.
Breaking Bad Cycles is key, and it is doable! If you or your home have any tendencies toward bad habits of drama or gossip you can find ways to positively affect the changes that will start maximize the flow of blessings that everyone can experience. This may be an area where some coaching and/or counseling is appropriate, and perfectly normal and acceptable, to get some help dealing with and overcoming. Your family is worth every effort! Blessing your family may depend on it.
Personally I have experienced, and over time witnessed, how generational or systemic dysfunction works inside of a family. The Bible references the "sin of the father" potentially having an impact on a family for four generations, and without an interceding event, without healing and restoration in that family line it can be a very strong reality for some.
Praying
for that healing and restoration may be a great place to start.
I also encourage each of us to always seek to experience grace and understanding, and then to give that away to others. Even if we have lived with individuals in our lifetime who didn't behave appropriately doesn't mean we really "know" them, or know the whole story.
Something I learned along my journey is the concept of "Time and Place" – everyone you know, at any point in their lives, is living at their very best possible at that "Time and Place" in their lives. If they could have been better in that moment they would have been because they would have been capable of being more. Only by a person's growth process can they become more than they were before and thus become more capable of different and better choices, attitudes, and behaviors. You may still need
Boundaries
in dealing with these situations, but it may also be easier to love and accept someone for who they truly are
and truly can be
if we stop to understand, gain perspective, and give them grace.
Blessing More
If you want to Bless Your Family then you will need to create a Drama and Gossip Free environment. The more you can make this a reality in your marriage and family, the more each of you can actually receive and experience more blessing in your lives together.
As I write this for us today I realize it takes more than just saying "we will have a drama and gossip free" environment to experience unconditional love, acceptance and blessing. It is not that easy. It is not some verdict or decree that just makes all the negative go away.
I realize how much work it may be to actually bring healing and restoration into your marriage and family if there has been unresolved hurt and dysfunction in your life or the life of your spouse, or both.
I also realize that even if you and your mate don't bring unresolved issues into your marriage and home that keeping your family in an environment free of drama and gossip still takes work. It is an intentional and conscious effort to keep negativity out and to thrive in a positive, peaceful, and respectful environment.
However, there is always hope, and there is always an option for healing and restoration to enter in. There is always hope for your marriage and family to experience more and more blessing.
I love my family, and I can see confidently that we love our life together. We give thanks almost daily for the love and peace we experience together, and I want the same for you and more. I want you to accomplish the desires of your heart to Bless Your Family, and I hope that nothing would be present in your marriage and family that would erode your best efforts towards that end!
Today's "Dares and Prayers" shared in the video:
Love Dare – "Forgives"
Love Dare For Parents – "takes Responsibility"
Power of a Praying Husband, Pray for – "Her Peace" /edj
Resolution – "to live with Integrity"
31 Days of Building Your Family Values, Bible App Devotions – "Merciful"
<YouTube video coming soon> 
---
Daily Resources and References
Please review the
Welcome to 31 Days to Bless Your Family
post if you missed it. There are some starting resources and recommendations there. Your best resource will be a local Bible teaching church to plug into with your family, and be surrounded by a thriving and supportive community.
Special Thanks to Kendrick Brothers Productions for their books The Love Dare, The Love Dare for Parents, and The Resolution for Men. You can check out their movies, books etc on their site. Their site recommends a local church finder at:
For prayer from KLOVE Radio staff:
"You can also call [the] prayer line at 800-525-5683"
If today's topic resonated with you please leave a question, or share something positive that is working for you in the comment section below.
Here's to your family's "purpose-filled and on-target day"!
God Bless You and Yours!