Blessing Your Family, Blending
Today's theme is Blending. The majority of families and marriages today are blended families, a mix of "Yours, Mine, and Ours" or "Blended" – and no, it's not always a made for the movies storyline.
As you set out to Bless Your Family, chances are you are are doing that in a Blended home. That may include different dynamics like stepparents and stepchildren, adopted and/or foster children, and of course there are exes and biological parents likely on the other side in some way. Raising a family isn't easy and uncomplicated to begin with, and our blended families add some extra layers and dynamics for us to navigate.
The important thing to remember is that your family is precious and dear. Your family can be every bit the beautiful environment and home you desire it to be – a home to bless your family from, and others too!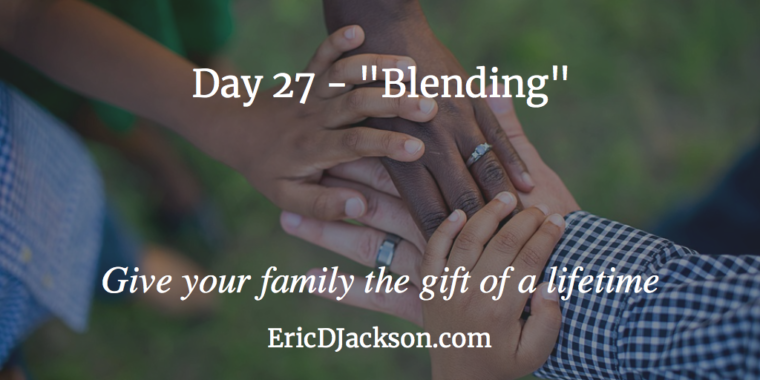 Do's and Don'ts
Obviously when Blending there is a past with others that didn't work out as planned or expected. There may be baggage yet to be dealt with, and there may be a need of forgiveness to resolve past issues. There may be patterns of behavior and communication that could follow and challenge your marriage and blended family. Therefore, it is important to bring as much grace, peace and healing into your home and all the relationships that impact the well-being of all of your precious children.
Let's start with some Don'ts. As best as each of you possibly can…
Don't speak ill of your exes
Don't rehash old wounds
Don't air old, dirty laundry
Don't try to replace a child's biological parent
Don't pit a child against the "other" parent
And some definitely Do's. As best as each of you possibly can…
Do forgive (and forget)
Do give grace abundantly
Do look for good in all parties and situations
Do pray for each child and each parent/home
Do keep each child's best interests at heart
Do keep each child's lifelong purpose in mind
Oneness, "Maintaining a Both/And Marriage" in a Blended Family:
Passing Along these 31 Blessings and More
Our role as spouses, as parents, is to be love – to model love and good values. We are to nurture that love and goodness, and we are to pass it on – to our children, our family, and to the world around us. In my opinion, there is no greater truth or honor or privilege or legacy.
When you accept this role and set yourselves to Blessing Your Family, then you accept the role of steward. You take on the responsibility of caring for something that truly isn't yours, something that is greater than you, something that will live on beyond you in so many ways.
With that perspective we might begin to see through a different lens the dynamics and variables and situations of our marriage and family relationships, whether Blending or traditional. When we uniquely "see a future" for our mate and for each of our children, then we can uniquely love them and bless them. We can show them genuine acceptance for who they really are, for the lifelong journey they have ahead of them (even if/when we pass on).
We can take on the role of preparing them to experience their life's purpose, to experience love and goodness, so that they can model and pass that on as well.
In that light, is any past or drama or conflict greater than the future life and well-being of your marriage and your children? Is any pain or withheld forgiveness actually worth more than a future life of healthy living and love for your children and their children?
No matter where you are at today, and where you are starting from as a family, there is hope to experience more peace, love, joy and acceptance. In your desire to Bless Your Family, you have a steward's role to do your best to model each of these 31 Blessings and more for your family. You can choose to begin modeling and preparing your marriage and family to better experience each of these blessings. It may not be easy, and at times it may seem impossible, but your best impact in a blended family is demonstrating what it means to love unconditionally, even in tough circumstances.
You can show your children what it means to
Get Started
, to demonstrate
Leadership
, to
Communicate
in healthy ways, to have
Undying Love
, to prove marriage can work when you
Surrender to Oneness
, and how they can create
all the elements of an environment that blesses
and prepares a unique path toward purpose and fulfillment.
The Big Blend
The good news is we can all be part of God's blended family, adopted into His family, fostered and raised up, to be loved and to receive goodness. We can experience grace and forgiveness from our past and our failures, and we can be made new, given second chances. We can be restored, healed and made whole. We can experience completeness, peace, joy and hope. We can have faith in Him and His plan to love us unconditionally, to accept us, and to bless us and prepare our place and future with Him.
<my YouTube video coming soon>
Today's "Dares and Prayers" shared in the video:
Love Dare – "Encourages"
Love Dare For Parents – "satisfied in God (alone)"
Power of a Praying Husband, Pray for – "Her Sanctuary" /edj
Resolution – "to be Faithful"
31 Days of Building Your Family Values, Bible App Devotions – "Thoughtful"
---
Daily Resources and References
Please review the
Welcome to 31 Days to Bless Your Family
post if you missed it. There are some starting resources and recommendations there. Your best resource will be a local Bible teaching church to plug into with your family, and be surrounded by a thriving and supportive community.
Special Thanks to Kendrick Brothers Productions for their books The Love Dare, The Love Dare for Parents, and The Resolution for Men. You can check out their movies, books etc on their site. Their site recommends a local church finder at:
For prayer from KLOVE Radio staff:
"You can also call [the] prayer line at 800-525-5683"
Organizations to Bless Your Family
If today's topic resonated with you please leave a question, or share something positive that is working for you in the comment section below.
Here's to your family's "purpose-filled and on-target day"!
God Bless You and Yours!
Oh, and just for fun – be careful in a blended family not to mis-read that situation…