Blessing Your Family, Gratefulness
Today's theme is Gratefulness or Gratitude, and tomorrow we will address its mate, Generosity.
When my wife and I first met and were dating we were so grateful for each other that we couldn't stop saying 'thank you for this and that', and sending 'thank you cards for the thank you cards'! We are both givers, pleasers even, and generous so we always wanted to give to the other as a natural expression of our love. The more we appreciated each other, the more we gave to each other, and the Sweetness Cycle has never stopped. I hope that cycle of blessing for your family!
How much Gratefulness do you have for your marriage and family? How well do you show it?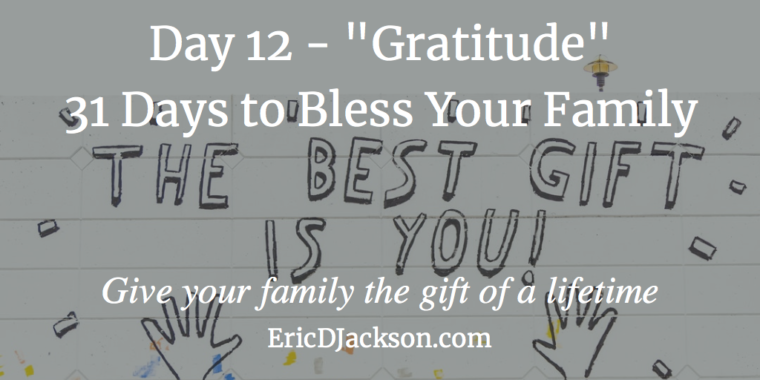 Attitude of Gratitude
We might all want to consider having an 'attitude of gratitude'. One of the earlier words I taught my then toddler son to say was 'appreciation' (vocabulary and enunciation are important also right?). Being Gratefulness has been one of the keystones of our own marriage and family. I cannot begin to share with you how much Blessing we have experienced by being grateful for each other and the life we have even when life isn't always perfect.
I remember the first days and dates getting to know my wife, our first kiss cliché. I remember the day my son was born, holding his hand only minutes after he was born and speaking words of love and comfort to him. These are treasures to me and help to fuel my gratitude, but so does every day that I get to spend with them and watch what God is doing in their own lives. I try to be grateful for each moment because they are precious, and because I never know how long I'll have to count these as blessings.
Gratefulness is so important in the psychology and enjoyment of our lives that there are
Gratitude Journals
and
Gratitude Challenges
intended to keep our minds and our hearts focused on the positive things we do have in our lives. I use
The Five Minute Journal app
as my go to format, and they have a
hard copy journal
option as well. And we only have to go as far as the greeting card industry to see how important this is to express gratefulness as human beings, whether it's a
Hallmark
store or my friend
George with Send Out Cards
, or the
Buffini & Company
system of hand-written thank you notes in business.
In All Things, In All Circumstances
Tony Robbins
emphasizes that
we can be grateful even for the negative things
in our lives when he shares his own personal story of a turbulent childhood. So we can even have that attitude of gratitude for our own misfortunes, failures, and lessons learned as things that help shape us and make us better if we choose to. God's instruction to us also, tell us to '
Give praise and thanks for all things
[circumstances]' to help us with our attitude of gratitude, like this Billy Graham article, "
How to Be Thankful in All Things
".
It is said that terminal illness on one end of the spectrum, or examples of financial windfalls like an inheritance or lottery win on the other end, only bring out our true nature, the character of the person we already are. I've personally seen the former in a hospital setting several times where individuals either choose anxiety or anger in their pain and circumstances, or patients that alternatively choose patience, gentleness, kindness – and yes, even gratefulness in their circumstances.
Which one are you naturally leaning toward, the negative or the positive? How can an attitude of gratitude make a difference and level-up how you Bless Your Family? What fuels your gratitude for your spouse and your children? How can you demonstrate to them how much you treasure them in your life?
Do something today to express your love and gratefulness to your spouse and children. Begin a new attitude of gratitude level to your home today to increase the impact of how you Bless Your Family.
Today's "Dares and Prayers" shared in the video:
Love Dare – "Love Lets Others Win"
Love Dare For Parents – "Love Encourages"
Power of a Praying Husband, Pray for – "Her Fears"
Resolution – "Love Your Wife"
31 Days of Building Your Family Values, Bible App Devotions – "Gentleness"
<YouTube video coming soon>
---
Daily Resources and References
Please review the
Welcome to 31 Days to Bless Your Family
post if you missed it. There are some starting resources and recommendations there. Your best resource will be a local Bible teaching church to plug into with your family, and be surrounded by a thriving and supportive community.
Special Thanks to Kendrick Brothers Productions for their books The Love Dare, The Love Dare for Parents, and The Resolution for Men. You can check out their movies, books etc on their site. Their site recommends a local church finder at:
For prayer from KLOVE Radio staff:
"You can also call [the] prayer line at 800-525-5683"
If today's topic resonated with you please leave a question, or share something positive that is working for you in the comment section below.
Here's to your family's "purpose-filled and on-target day"!
God Bless You and Yours!