Blessing Your Family, Modeling Responsibility
Today's theme is Modeling Responsibility, for your children and the society you impact, even bless, every day!
This is another topic that did not make my original list. It comes to us from my teenage son's feedback on how he has received blessing from our family. I might have included it within another topic or two as a matter of course, but I want to honor his incredible conversation and insights with me as I include his and my wife's topics within our series together.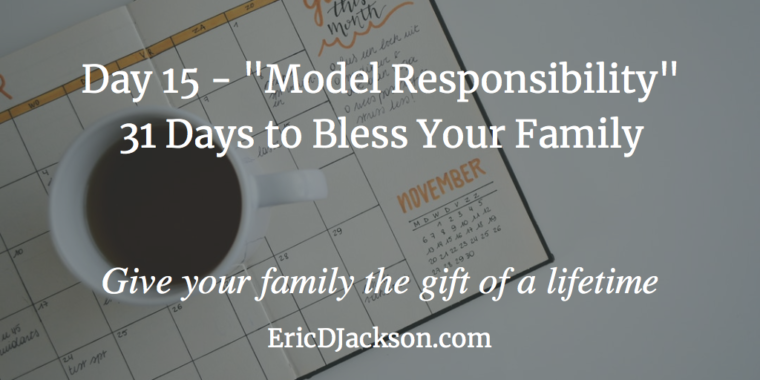 Show Them the Way and They Will Return To It
First of all, what parent expects their child to say as a teenager, 'thank you for modeling responsibility' for me?! "I value what you are showing me." If that's not a blessing, I don't know what is!
Second, what parent ever thinks they have this parenting thing locked down and without doubts or fears about how they are raising their children? Or, is what they are trying to do as parents really effective, or even getting through, or are they doing and saying the right things to help their children turn out alright – much less to be the best version of their 'own selves'. You probably know what I am talking about – that balance of am I too hard or too soft, am I too this or too that?
Finally, "
it's my fault
", or it's "
nobody's responsibility but mine
". @
TomBilyeu
of
Impact Theory
sells T-shirts with that phrase on it, a trainer for a business course I took started her trainings with it, and President Harry S. Truman is quoted saying, "
the buck stops here
". This is actually what gets
modeled
. We lead by example, and if we are to
Bless Our Families,
then whether our kids know it or not, or thank us or not, we have to do our best in this life in spite of all our imperfections.
Responsibility has to be a personal value internal to our character before we can ever model it to our children, and to the society we influence in our daily lives. I think what my son refers to is that he has almost always seen my wife and I be intentional about doing what is right and timely and promised and responsible. I say almost always because I've never seen my wife not model it, and I personally know a time or two (or more) where I have failed and had to be accountable for it later. (What can I say? She's better than me, and we know it 🙂 But still, I do my best to pick up, do right or fix something, and keep moving in the right direction.
As I mentioned in yesterday's post,
Partnering and Parenting
, is not just tasks and chores that make a lighter load when everyone pitches in, but it is every one doing their part or
responsibility
in the family, or out in society. I try to find opportunities and life lessons to point out to my son the importance of responsibility, and then I do try to
model
and be the best example I can be of what that means to actually live it out in daily life. I can't just preach to my son to do his homework and deliver his best if I am not doing everything I can to show him how I do the same.
If you are going to Bless Your Family by Modeling Responsibility, then everyone will likely need to pitch in according to their own age and abilities, and definitely to their own strengths. There are things around our home that my wife is stronger at than me, and conversely there are strengths that I take care of better than her. Of course, your marriage and family will decide what is the best combination to get all the responsibilities done in your home. Regardless of strengths, or preferences, or anything else it's all got to get done no matter who does it. Right?!
There's also a caution that we don't do too much 'for' our children if they are to start learning responsibility for themselves. My wife and I fall into that trap sometimes. It's hard to find a balance, and it's easy to just take care of something when you want to, the way you want to. But that doesn't help train or pass on the skills and understanding necessary for other to be more responsible either. This applies in all areas, like at work, and even with our spouses. My wife is perfect at getting tasks done, and no matter how many times I ask her to put somethings on a list for me to manage and get to, it's still easier for her to just check it off her own list by herself. That's not fair to herself, but I already did admit she's much better than me.
How are you Modeling Responsibility in your marriage and family? Any room for improvements, or new ideas come to mind for you as you think of your own family? How do you envision this practice of modeling responsibility being a blessing for your family in future years? Future generations? Do you have a lifelong vision of what that looks like with your mate, and as parents and grandparents?
Today's "Dares and Prayers" shared in the video:
Love Dare – "Honors"
Love Dare For Parents – "from God"
Power of a Praying Husband, Pray for – "Her Protection"
Resolution – "to Live With Honor"
31 Days of Building Your Family Values, Bible App Devotions – "Self Control"


<youtubevideo> 
---
Daily Resources and References
Please review the Welcome to 31 Days to Bless Your Family post if you missed it. There are some starting resources and recommendations there. Your best resource will be a local Bible teaching church to plug into with your family, and be surrounded by a thriving and supportive community.
Special Thanks to Kendrick Brothers Productions for their books The Love Dare, The Love Dare for Parents, and The Resolution for Men. You can check out their movies, books etc on their site. Their site recommends a local church finder at:
For prayer from KLOVE Radio staff:
"You can also call [the] prayer line at 800-525-5683"
If today's topic resonated with you please leave a question, or share something positive that is working for you in the comment section below.
Here's to your family's "purpose-filled and on-target day"!
God Bless You and Yours!