Blessing Your Family, Surrender to Oneness
Today's theme is Surrender to Oneness. Or, as I like to say sometimes, "Life's secret sauce is surrender". In fact, I would like to submit to you that there is no greatness in life or any achievement without surrender, or sacrifice, or yielding.
It doesn't matter what makes you comfortable saying it because it is always going to be uncomfortable doing it! (it's ok to stop and smile right here 🙂
Before we talk about this in a family context allow me to mention how this works in other areas of life. We all surrender to the laws of physics if we want to live at all. Most of us surrender to the laws of the land, and the "rules of the game". It doesn't matter if it's game night at home, or we are playing sports, or professionally in our chosen field of work… we are going to have to know, understand, accept and operate within the "rules of the game" if we are to succeed at anything. It's counter-intuitive, but it's true in principle and application.
Surrender creates these things:
Unity
Agreement
Synergy
Peace
Victory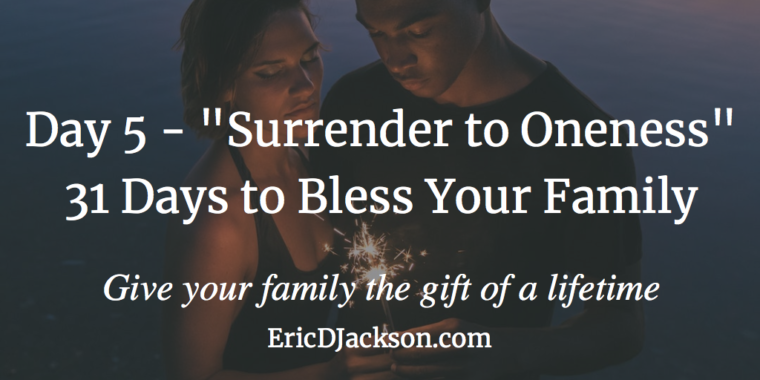 Surrender to Oneness to Bless My Family
When we actually become willing to surrender we are acknowledging that there is more to life than just self. We are saying to those around us that we are willing to come together, to be united, to find agreement, to create synergy, to be at peace with each other, and to achieve victory – together.
When we Surrender to Oneness in our marriage or in our family, we are laying down our limited self-interest, and we are picking up the unlimited potential of something bigger, more important, and more valuable than we could ever experience on our own. Anything we do alone and isolated in our self-power does eventually depreciate or even disintegrate. In contrast, anything truly great that lasts requires surrender and sacrifice, and it involves blessing other people.
When we Surrender to Oneness in our marriage or in our family we strengthen, and not weaken, our entire situation. We become stronger together, and more whole together. Surrendering self means prioritizing the marriage and the family above our own personal preferences, wants, or desires. It means setting aside our pride, our agenda, and our control (to name a few) so that we can instead experience unity, intimacy, peace, clarity, health and life (to name a few).
This paradigm shift changes how we deal with conflict and problems. No longer do those come in between us, making us collateral damage in the battle. No, this shift toward surrender repositions everything into its proper place. A unified couple and family draw closer together, and problems stay where they belong – on the outside, where they can be addressed appropriately. Something else miraculous happens when a couple chooses to Surrender to Oneness in their relationship, especially if they are already people of faith – they not only draw closer to each other, but they also draw closer to God.
I already mentioned it is the doing that is uncomfortable with this topic. How are you feeling about surrender in our context today? Is there anything here today that may help you to Bless Your Family? How has Surrender to Oneness been positive in your own family?
Today's "Dares and Prayers" shared in the video:
Love Dare – "not Rude"
Love Dare For Parents – "Wonderful"
Power of a Praying Husband, Pray for – "Her Moods"
Resolution – "Chain Breaker"
31 Days of Building Your Family Values, Bible App Devotions – "Generosity"


 <YouTube video coming soon>



---
Daily Resources and References
Please review the
Welcome to 31 Days to Bless Your Family
post if you missed it. There are some starting resources and recommendations there. Your best resource will be a local Bible teaching church to plug into with your family, and be surrounded by a thriving and supportive community.
Special Thanks to Kendrick Brothers Productions for their books The Love Dare, The Love Dare for Parents, and The Resolution for Men. You can check out their movies, books etc on their site. Their site recommends a local church finder at:
For prayer from KLOVE Radio staff:
"You can also call [the] prayer line at 800-525-5683"
If today's topic resonated with you please leave a question, or share something positive that is working for you in the comment section below.
Here's to your family's "purpose-filled and on-target day"!
God Bless You and Yours!